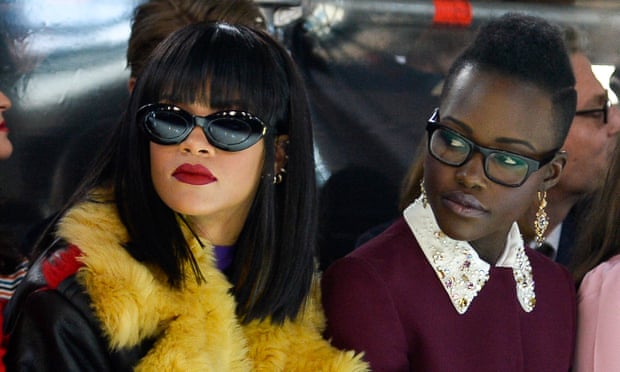 Rihanna and Lupita Nyong'o will star in a new movie directed by Ava DuVernay after a social media post about the couple went viral.The Grammy Award-winning songstress and Oscar-nominee were together at a Miu Miu fashion show in 2014, and the tweet featuring the photo was used as a part of a joke movie pitch on Twitter in April.
The original joke that came from Tumblr said that Rihanna looked like a woman who scams rich white men while Lupita is her best friend who knows how to use computers to hatch the diabolical schemes. Shortly after the post became viral, the celebrity duo became interested in the idea and so did DuVernay and the writer of the series Insecure, Issy Rae.
According to Entertainment Weekly, the project was pitched to studios at the Cannes Film Festival of 2017 and Netflix came out on top with a super aggressive bid. The plotline of the film is unclear as of now; it may or may not follow the original social media post.
Netflix is planning the film for a release in 2018 after DuVerney finishes her adaption of the novel A Wrinkle In Time, which stars Oprah Winfrey, Reese Witherspoon, Andre Holland, Chris Pine, and Gugu Mbatha-Raw. DuVernay released a documentary on Netflix called 13th, and it was nominated for an Oscar.
On Twitter, Duvernay wrote:
We deserve nice things. ✌🏾️https://t.co/VlbKhLNDIv

— Ava DuVernay (@ava) May 22, 2017
Rihanna has starred in Battleship, Bate's Motel, and she made a quick appearance on This Is The End starring Seth Rogen, Jonah Hill, and Jay Baruchel. She'll be seen next in Valerian alongside Cate Blanchett as well as in Ocean's Eight with Sandra Bullock.
Nyong'o who won the Best Supporting Actress Oscar for 12 Years a Slave, has also been in films like The Jungle Book, Star Wars: The Force Awakens, and Queen of Katwe.
Rae's HBO comedy Insecure was a hit last year in the comedy category, and it saw Nyong'o nominated for best actress in a comedy at the Golden Globes.