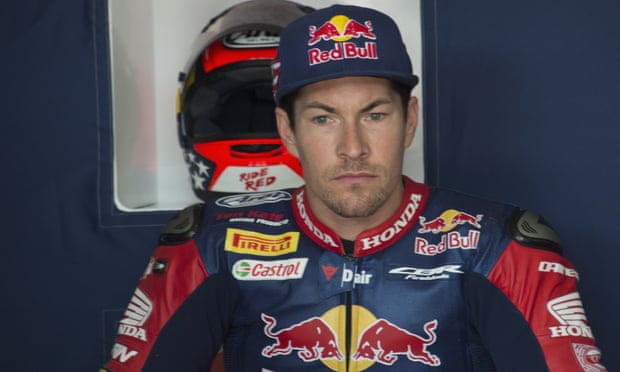 Nicky Hayden, the former champion of the MotoGP, died five days after he was involved in a motorcycling accident. The American motorcycle driver was hit by a car when he was training in Italy last week; suffering fatal head and chest injuries.
The Maurizio Bufalini Hospital confirmed on Monday that he had died while in the hospital.
Italian police have started an investigation into the person who hit Hayden on his bike. They gave the individual a breathalyzer test, but they did not find that person to be intoxicated. More reliable conclusions will come out in July.
Hayden entered MotoGP in 2003 and took the World Championship in 2006, just barely beating his rival and friend Valentino Rossi, who won the title fives times consecutively.
The Owensboro, Kentucky native transferred to World Superbikes at the end of 2016 and he was competing to be on the Red Bull Honda team this year. He was 13th in the standings among other riders.
Red Bull Honda said in a statement Nicky was a true champion and was a fan favorite because of his kind and relaxed demeanor. He was famous for his smile that he carried everywhere and he will be sorely missed.
Destrozado tras la noticia. Nunca te olvidaremos! / I'm shattered after the news. We will never forget you! #DEPNickyHayden #RIPNickyHayden pic.twitter.com/qF5wNnFM6o

— Marc Márquez (@marcmarquez93) May 22, 2017
On Monday, members of the racing community paid tribute to Nicky who was a very popular figure. Marc Marquez, who is the reigning champion of the MotoGP, said he was shattered by the news and will never forget Hayden.
Aleix Espargaro, a Spanish MotoGP rider, said he couldn't believe the news and Nicky was one of the most relaxed and kind people he ever met in his life.
Mark Webber said Hayden was a beautiful and genuine person. His fiancée and mother flew to Italy last week to be next to him while he was in the hospital.
His brother, Tommy, thanked everyone for their support saying it was a great comfort to know Nicky had touched so many people in his life.The statement went on to say Nicky's dream was to be a motorcycle rider and not only did he achieve that but he went on to become the world champion.