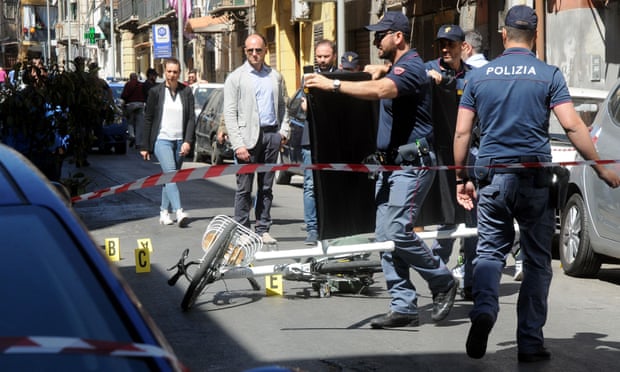 Giuseppe Dainotti, 67-years-old, was shot and killed while riding his bike in Sicily. It appears to have been a mob killing that has become more rare in the recent past due to the arrest of more dangerous organized crime figures.
This shooting comes 25 years after anti-Mafia magistrate Giovanni Falcone was killed in an explosion on a highway.
Photos of the crime scene on Monday will remind the citizens of Sicily of the violent past regarding organized crime in the city. The pictures show Dainotti's body covered by a sheet; his shoes showing, and the bicycle he was on beside him on the ground.
Francesco Lo Voi, the prosecutor for Palermo, said the killing was a warning to the government that Cosa Nostra ("Our Thing") was lying low, but it was still there. By that, he means that just because the Mafia has been lying low and has remained inconspicuous, it doesn't mean that they don't still exist.
In a statement, he said whenever people start to forget about the Mafia, something like this happens to show it's still there beneath the surface. He went on to claim when it's necessary, "It shoots again, in an explicit and symbolic way."
The murder of Falcone in May of 1992 as well as Paolo Borsellino in a different attack in July of the same year sparked a crackdown on the mafia that put many of their key members in prison.
The Sicilian mafia has been replaced by the notoriously ruthless Ndrangheta in Calabria and the Camorra, that is based in Naples. The last big murder case perpetrated by the organized crime figures was when they beat a lawyer to death by in 2010.
Witnesses who saw the shooting of Dainotti and called the police said they saw two people drive by the man on scooters and shoot him. The police officials said the murder was heinous, especially considering its proximity to a school as well as being on the same day of the Falcone massacre.
He said, "Tomorrow the state will remember its heroes," that were killed by the mafia. He went on to say the mob has shown its "dynamism," by killing yet another person.
The dead gangster is thought to be friends with Salvatore Cancemi who is a top mafia boss involved in the murders of Borsellino and Falcone.
In 1993, Cancemi became a collaborator with the police and turned himself into the authorities. In a statement with the authorities, he said the head Mafia figure, Toto Riina, ordered French champagne to celebrate the death of Falcone. He died in hiding in 2011.
Dainotti was nicknamed "Gano di Magonza" by his enemies in reference to the knight who allegedly betrayed Charlemagne's army to the Muslims.
The literary character's name comes from the Italian word 'inganno', which means fraud or deception. He is condemned by Italy's most notorious poet Dante to spend eternity in hell.