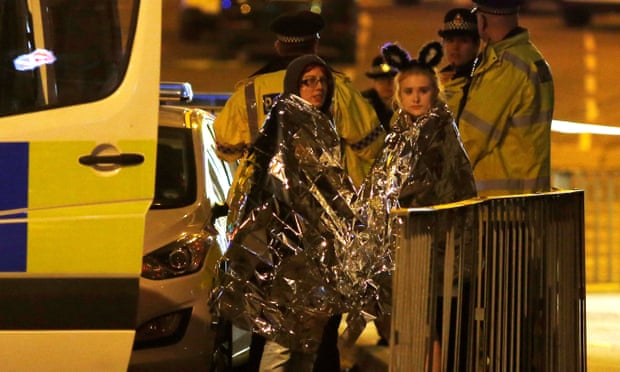 Ariana Grande and other celebrities have taken to Twitter to respond to the bomb attack at the Manchester Arena in the United Kingdom. The American singing sensation was not hurt in the blast, but tweeted that she was "broken" by news of casualties.
22 people were killed, and more than 50 were wounded after there was an explosion around the foyer area which left thousands of people screaming and running from the venue. Grande's European tour is currently suspended as the singer was scheduled to leave for Poland, Germany, and Belgium as well.
broken.
from the bottom of my heart, i am so so sorry. i don't have words.

— Ariana Grande (@ArianaGrande) May 23, 2017
My heart hurts for my sister, Ariana & every family affected by this tragic event in the U.K. Innocent lives lost. I'm so sorry to hear this

— NICKI MINAJ (@NICKIMINAJ) May 23, 2017
My thoughts, prayers and tears for all those affected by the Manchester tragedy tonight. I'm sending all my love.

— Taylor Swift (@taylorswift13) May 23, 2017
every musician feels sick & responsible tonight—shows should be safe for you. truly a worst nightmare. sending love to manchester & ari

— Lorde (@lorde) May 23, 2017
No words can describe how I feel about what happened in Manchester. I don't wanna believe that the world we live in could be so cruel.

— Bruno Mars (@BrunoMars) May 23, 2017
My thoughts and prayers are with all those affected by this horrific act in Manchester. We need to do better. We need to LOVE ONE ANOTHER.

— Justin Timberlake (@jtimberlake) May 23, 2017
Praying for the beautiful souls we lost, their families and loved ones, for the survivors who will forever be impacted by this #Manchester

— Rihanna (@rihanna) May 23, 2017
Manchester stands together.

— Johnny Marr (@Johnny_Marr) May 23, 2017
My hearts broken.

— Guy Garvey (@Guy_Garvey) May 23, 2017
Our hearts go out to the victims and their families affected #WeStandTogether #Manchester

— New Order (@neworder) May 23, 2017
Take That, a band who formed in 1990 in Manchester, were playing a show at the Liverpool Echo Arena when the terrible tragedy occurred. They released a statement claiming they are canceling their show in Liverpool, "Out of respect to all of the people and their families." It went on to say they pray for everyone involved and their thoughts are currently with the victims.